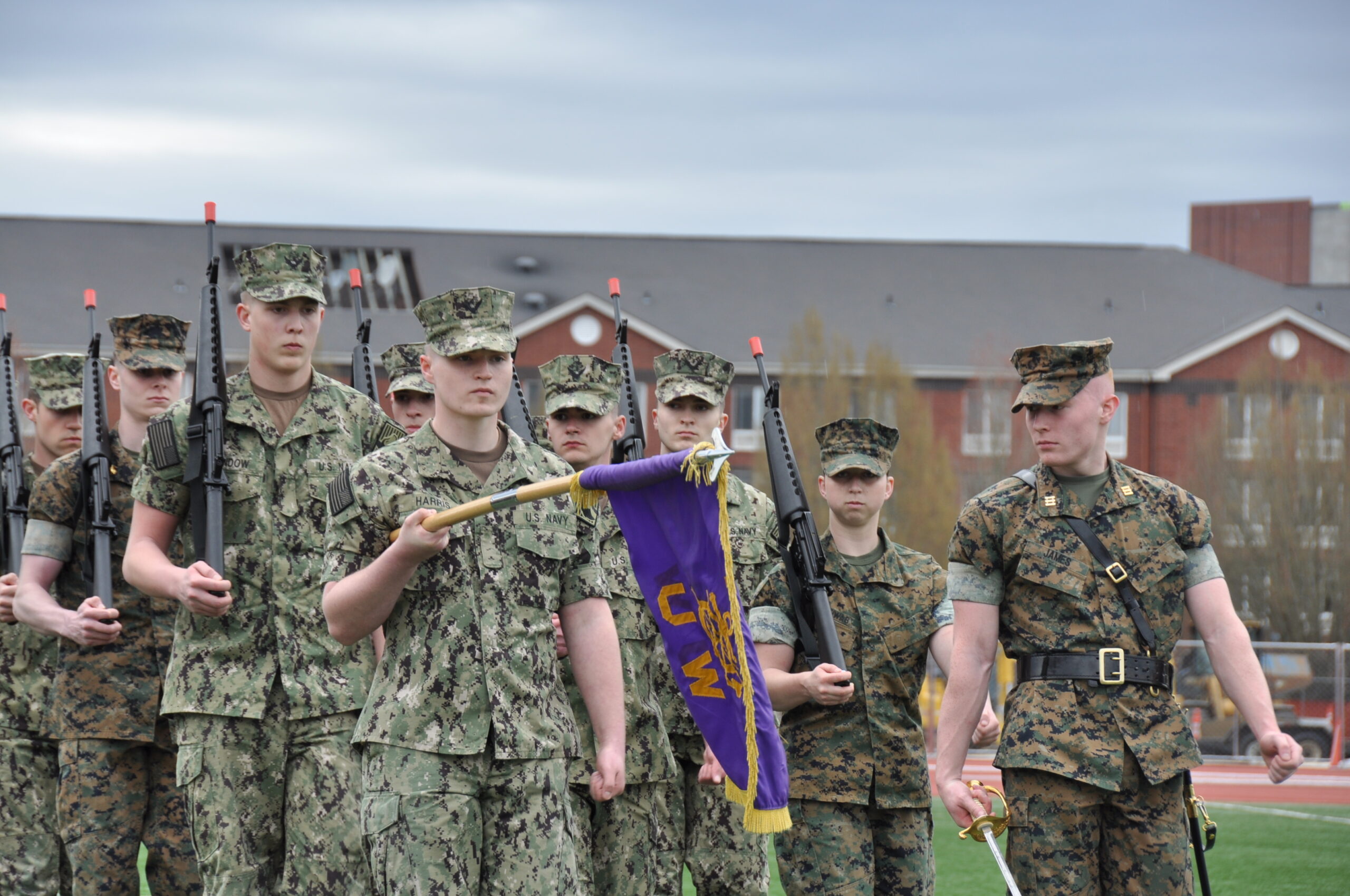 Day to Day
Weekly Activities
There are various unit activities that happen every week that all battalion members participate in. They take place in the morning to avoid conflict with classes. On Mondays, battalion members participate in physical training (PT) in their companies. There are two Navy companies and one Marine company that make up the battalion. On Tuesdays, the battalion has lab, where we listen to lectures from guest speakers and complete required military trainings. Past guest speakers have included representatives of various warfare communities, flag officers, and government officials. After lab on Tuesday, the members of the battalion wear their uniforms to class. On Wednesday, the battalion participates in PT together, under the leadership of the physical training instructor (PTI). PTI is one of many student billets to give battalion members leadership and management experience before commissioning. On Thursday, the freshmen practice regulation drill in preparation for Northwest Navy (see below). Bulldog Company has additional weekly activities that are covered in the Bulldog section.
Academics
Students in the battalion are also full-time college students, who are expected to take between 15 and 18 credits per quarter. This includes Naval Science (NCSI) courses, which are taught by the unit staff and are required for commissioning. NSCI courses are 3 credits each and there is at most one required per quarter. The number and type of NSCI classes required for commissioning differs between Navy, Nurse, and Marine options.
Bulldog
Overview
Bulldog Company is one of the battalion's three companies. All the Marine option midshipmen and MECEPs are in Bulldog. Bulldog does additional training in preparation for Officer Candidate School.
Weekly Activities
Bulldog has an additional, non-UW class from 0730 to 0820 on Thursdays. In it, Bulldog members learn small-unit tactics and leadership to prepare them for Officer Candidate School and the fleet.
Field Exercises
Bulldog runs field exercises once a quarter at Joint Base Lewis-McChord. They last between 24 and 48 hours, and include practical application of navigation, small unit tactics, and leadership. Navy options are also invited to attend field exercises as an opposition force.
Officer Candidate School
Officer Candidate School is where Marine option midshipmen earn the title of Marine. It lasts 6 weeks, and consists of constant physical and mental training in preparation for the fleet. This includes physical events, regulation drill, small arms training, and many other things.
Summer Cruise
Overview
Over the summer, students on scholarship are expected to participate in summer cruise. College programmers are not able to participate, except in NSI. The length and content of summer cruise varies widely, depending on the year and type of cruise. Students are on active duty for the duration of cruise and are paid at the level of an E-5 service member while they are on cruise. Travel costs including plane fare and hotels are paid for by the Navy.
NSI
Completion of New Student Indoctrination, or NSI, is required for all NROTC students across the country. Students who have received the 4-year national scholarship will be sent to NSI the summer before reporting to their unit. College Programmers will either be sent the summer before reporting or the summer after their first year, depending on when they submit their package to the unit and other factors. NSI is located at Naval Station Great Lakes, and serves as indoctrination into the military for new midshipmen Candidates. It is a physically and mentally demanding program that includes regular PT, regulation drill, and other military training. We highly recommend that students arrive to NSI physically fit. For more information, see the NSI website.
CORTRAMID
CORTRAMID is the cruise for rising sophomores. It is intended to give midshipmen hands-on experience with each warfare community. It's four weeks long, with one week spent with the surface community, one week with the submarine community, one week with the aviation community, and one week with the Marine Corps. Some of the unique experience midshipmen participate in during CORTRAMID are a flight in a T-34, and underway time on both a ship and a submarine.
2/C Cruise
The second class (2/C) cruise is for rising juniors. During this cruise, Navy option midshipmen shadow an enlisted service member. This is either on a surface ship for multiple weeks, or a submarine for a week. They also have the option of staffing NSI as a midshipman instructor. Marine option midshipmen instead spend a month experiencing different parts of the Marine Corps in Camp Lejeune.
1/C Cruise
The first class cruise is for rising seniors, and is required for commissioning. Navy option midshipmen shadow an officer at either an aviation squadron, a surface ship, or a submarine. For those applying to special warfare communities, the selection programs replace cruise. Navy option midshipmen also have the option of staffing NSI as a midshipman instructor. Marine option midshipmen attend Officer Candidate School instead of cruise.
Extracurriculars
Overview
There are a variety of extracurricular activities that are run by the battalion, but are not part of the mandated curriculum. These do not take place in the mornings with the rest of the NROTC events, and are not required for commissioning. Some of these are listed below.
Sail Team
The unit has a 44-foot racing yacht named Vigilant that was originally owned by the Naval Academy. The sail team takes Vigilant out sailing in Elliot Bay every Saturday during the school year. There are also periodic overnight trips and races.
Color Guard
The battalion color guard participates in events throughout the school year. These include both Navy events and joint events, done with the other UW ROTC color guards. Events include UW football and basketball games, the annual Navy and Marine Corps Birthday Ball, and local Navy and Marine Corps events.
Northwest Navy
Northwest Navy is an annual competition between the UW NROTC unit, the Idaho-Washington State unit, the Oregon State unit, and the Utah unit. The units rotate hosting and organizing the event, which is run primarily by students. The units compete in various sports, military physical events, and regulation drill. The University of Washington has won this competition for the past 5 years.
Birthday Ball
Birthday Ball is the annual celebration of the birthdays of the Navy and Marine Corps. It is a formal event that includes a ceremony, dinner, and dancing. Battalion members are expected to participate and are encouraged to bring a date. Birthday Ball is an opportunity to build camaraderie and an appreciation for Navy and Marine Corps tradition.
Iron Owl
Iron Owl is a 48-hour fitness competition held every year in Klamath Falls, Oregon. The unit sends a team every year to compete with other programs including the Naval and Air Force Academies. If offers a chance for motivated midshipmen to push themselves to their physical limits.