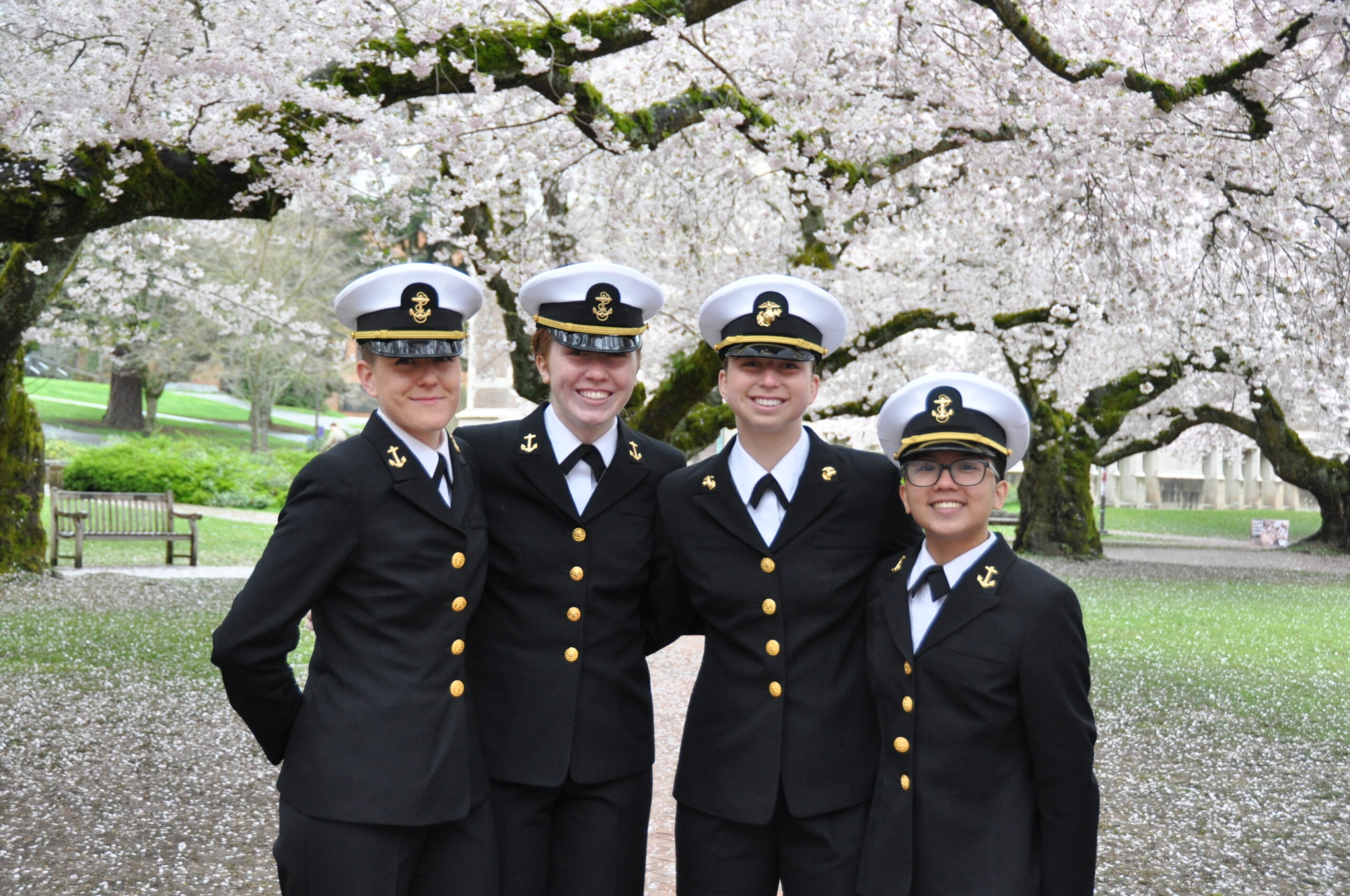 College Program
Overview
The college program provides a way to participate in the unit without a scholarship. Programmers participate in all unit activities except summer cruise, and their tuition is not paid for. However, they can apply for a sideload scholarship after participating in the unit for a year. Applications for the college program are submitted directly to the unit.
Eligibility
In order to be eligible for the College Program, you must:
Be a U.S. Citizen
Be a current or accepted student at the University of Washington
Not less than 17 years old by September 1 of year starting college and no more than 23 on December 31 of that year
Not have reached 27th birthday by December 31 of year in which graduation and commissioning are anticipated
Be physically and medically qualified for military service
Be motivated to serve as a commissioned officer in the US Navy
Apply
Application
College Program Application, NSTC 1533/133

Fill out and sign the attached College Program Application Form

Unofficial Transcript

Submit your high school transcript.
If you have completed any college level education, please submit that transcript as well.

Degree Completion Plan

Fill out the Degree Completion Plan with your entire class schedule for completing a four year degree in your major.
Use UW MyPlan to find classes best for completing your major and DARS (Degree Audit Reporting System) to ensure your plan meets the requirements for your major.

Drug Statement, NSTC 1533/101

Read, fill out and sign the Drug Statement.
You may leave the witnessing official blank.

Drug Statement of Understanding, NSTC 1533-153

Read, fill out and sign the Drug Statement of Understanding.
You may leave the witnessing official blank.
Both the Drug Statement, NSTC 1533/101 AND the Drug Statement of Understanding, NSTC 1533-153 must be filled out.

Medical Screening

Please fill out and have a health care professional sign the medical screening form: DD 2807-1.
Only the last four of social is required.
A letter stating you are physically qualified for a military academy or ROTC program may also be accepted instead of the DD 2807-1 form.

Applicant Fitness Assessment

All applicants are required to complete a fitness assessment. The test can be administered by any physical education instructor, athletics coach, active duty officer, active duty E-7 or above or NJROTC instructor. If you have a copy of your ROTC or Service Academy Fitness Assessment you may submit it in lieu of performing an additional assessment.
The test consists of a 1 mile run, crunches and push-ups in the following format:
| | | | | |
| --- | --- | --- | --- | --- |
| Event | Start Time | Test Time | Rest | Elapsed Time |
| Sit-Ups | 0:00 | 2:00 | 3:00 | 5:00 |
| Push-Ups | 5:00 | 2:00 | 3:00 | 10:00 |
| 1-Mile Run | 15:00 | 10:00 | 5:00* | 25:00 |
* the 5-minute rest includes the transition time to the outdoor track. If the 1-mile run cannot be started by minute 15, an alternative arrangement for a running surface must be found.
You may arrange to come into the unit and have a staff member administer the assessment or you may have anyone that meets the criteria above administer the test.
The minimum scores are:

Males: 30 crunches, 30 push-ups, 10:00 run
Females: 30 crunches, 20 push-ups, 12:00 run

The maximum scores are:

Males: 95 crunches, 75 push-ups, 5:20 run
Females: 95 crunches, 50 push-ups, 6:00 run
Submission
Applications may be submitted in person, mailed to the address below, or via email to LT Warner Vanos, vanosw@uw.edu.

Attn: College Program Officer
Clark Hall
2103 NE Skagit Lane
Box 353840
Seattle, WA 98195-3840
Officer Interview

Use form below to schedule an officer interview.
Please denote if you would like to apply for the College Program Navy Option or Marine Option in the additional information section.
All application materials must be submitted prior to the interview, exceptions can be made for the Physical Fitness Assessment if you would like to take that at the unit immediately before or after your interview.
Your interview request and application materials must be submitted no later than June 30th for consideration.
Officer Interview Scheduling
Interviews will only be conducted between Monday and Friday, from 8am to 4pm.

Interviews can be conducted on Zoom depending on circumstances.

Students looking to schedule an officer interview should use the form below. Please specify a preferred date, time and include any additional pertinent information. You must schedule interviews at least a week ahead of time.
LT Warner Vanos (vanosw@uw.edu) will be the point of contact after the form is completed. Please allow at least 2 business days for processing.